Our Business is Wireless Communications Systems Consulting
Business Critical & Mission Critical Communications for When It is Needed Most
With more than 30 years of experience, RLA Communications Engineering, LLC has a solid reputation for providing high quality RF Engineering Consulting Services. Our strict standards and unwavering work ethic set us apart from our competition and make us the preferred, trusted partner. Whether your needs involve Land Mobile Radio (LMR), Distributed Antenna Systems (DAS) for Commercial Wireless or First Responders, rest assured our team can handle it.
<<<RLA is Now the Proud Developer and Sole-Source Provider of LMR Planner(c)>>>
APCO P25 * TETRA * DMR * LTE * 5G * IoT * iDAS * oDAS * BDAs * TRUNKED or CONVENTIONAL LMR
DAQ Based Radio Propagation
The performance of Mission Critical and Public Safety Radio Communications is dictated by TIA/TSB-88 guildelines. Regardless of the access technology (APCO P25, LTE/NPSBN, TETRA, DMR, LSM, etc.), there is a channel performance criterion (CPC) that should be included in every system design to ensure reception intelligibility and system reliability.
Intermodulation TNRD and NIR/MPE
Signal Level Based Intermodulation Interference
Transmitter Noise and Receiver Desensitization Analysis
Out of Band Emissions (OOBE) Spectrum Analysis
Non-Ionizing Radiation / Maximum Permissible Exposure to ensure On-Roof or On-Tower Worker Safety
LTE Reference Signal Received Power (RSRP)
Delivered Audio Quality (DAQ)
Regulatory Based Interference Analysis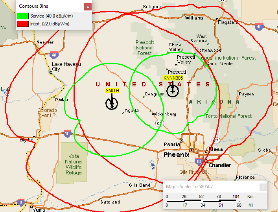 RLA Communications Engineering LLC is able to assist regulatory specialists and consultants with conducting FCC based co- and adjacent interferece analyses that include, but are not limited to contour-based analyses and percent of service area reduction due to interference. Analyses are based on R-6602, R-6404 or any other approved propagation model.